The Total Health System is a comprehensive body composition system that provides real-time, accurate monitoring and trending of your patients' crucial biometrics.
How it Works
The simple, in-office operation provides full body lean mass, body fat, hydration and Basal Metabolic Rate readings. These valuable readings are instant, accurate and repeatable.
What it Does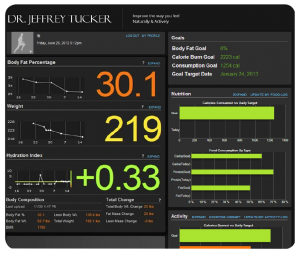 The BCA (Body Composition Analysis) Device accurately scans and conducts a crucial body composition analysis – this information provides real-time results to individuals and wellness professionals within 60 seconds. Data from these body scan can be printed and/or stored electronically in the patients file on the Total Health Dashboard. This Dashboard allows the patient to enter a complete food diary and along with their practitioner, track and monitor progress and success via the visual dashboard. As a the practitioner, having the quick access to their daily food log and most recent body composition analysis information, you are able to make comments directly to the patient. This interaction helps to greatly increase the health outcomes for the patient as well the profitability for your practice.
How it Increases Revenue
The complete Total Health System increases revenue for your practice by:
• Reactivating dormant patients
• Adding a new revenue stream
• Improving patient retention
• Creating unique marketing opportunities
• Establishing practice differentiation
• Increasing supplement and rehab sales
• Creating more patient/practitioner actions and opportunities
To find the Total Health System Package that's right for you and your practice, click here.